SAFETY AND
SECURITY
Glass is your weakest link.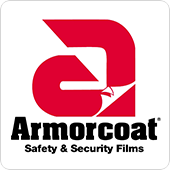 Armorcoat ® safety film is widely reputed as one of the most effective, affordable, proven glass retrofit solutions available for residential, commercial and government applications. Armorcoat® helps hold glass in place upon impact, offering 24-hour window protection against intruders, severe storms, terrorists, and earthquakes.
ARCHITECTURE
SAFETY / SECURITY
Reinforces Glass & Contains Shards.
Protection against Terrorism and Bombings.
Protection from severe Weather and Natural Disasters.
Minimizes risk of airborne shattered glass.
Deter Intruders & Burglars.
Helps Keep broken glass in place after breakage.
Provide around the clock Protection & Peace of Mind.
Comfort & Energy efficiency with Solar Control Versions.
AUTOMATIVE
SAFETY / SECURITY
Security window films installed to your vehicles glass will give maximum protection against Smash and Grab attacks, Road Rage attacks, Vandalism and Vehicle theft combined with the added protection against injury in the event of a vehicle accident. Withstanding attacks from numerous implements including Hammers, Bricks, Baseball Bats, Spark Plug Shards and Sharp points like Metal Punches, Your vehicle will be protected against every eventuality.
SOLAR
PROTECTION
Beat the heat with SUPERCOOL

A division of
Saint-Gobain Performance Plastics
, a subsidiary of Saint-Gobain, the world leader in the habitat and construction markets, Solar Gard's architectural solar control window films are proven carbon negative and reduce global greenhouse gas emissions.
Solar Gard window films are installed on several thousand homes, buildings and millions of vehicles every year in more than 90 countries via company owned distribution centers and independent dealers.
ARCHITECTURE
Solar Gard Window Films can dramatically improve your building in four specific ways:
Window films protect against solar energy for efficient energy saving.
Shaded window film provides improved comfort.
Additionally the window film provides protection against the shards if window shatters.
Solar window tint protects against ultraviolet damage.
Once it is installed, the benefits keep coming year after year with durable, long-lasting Solar Gard window films.
AUTOMATIVE
Solar Gard window film is the one product that is offering benefits beyond your needs.
Furnishing & Upholstery Preservation.
Reduced Hot Spots & Glare.
Improved Comfort.
Balanced Climate.
Reduced Energy Demands.
Extended HVAC Life.
Increased Privacy.
Aesthetic Enhancement.
DECORATIVE
Find a new way to look at your glass.
We are decorative glass window film specialists; offering decorative films with patterns for semi privacy, quick installations, decorative & frosted film designs, Supply & Installation Services.
Decorative or Frosted Glass adds a point-of-difference & cost effective solution to signage for a business and provides a warmer, friendlier environment for your staff and customers.
Benefits
The benefits of using our Glass window film are:
Film will not shrink, curl or bubble even under the harshest conditions.
Gives the appearance of etching or sand blasting.
It's affordable and versatile.
Easy to keep clean and won't spoil in wet areas.
Can be precut into any design, logo or sign.
Lightweight and durable can be installed internally or externally.
Film can be removed at any time and has a low tact quality.